SEABOURN CRUISES...WORLD'S BEST SMALL-SHIP LUXURY CRUISE LINE!
Discover Enchantment with Seabourn Cruises & United Cruises
Seabourn Cruises offer a unique blend of intimacy, style and elegance, wholly suited for the luxury traveler. Seabourn's fleet of six "all-suite" vessels harbor between 208 and 450 guests each, and sail to the most sought-after destinations in the world.

And each ship will meet your every desire making your cruise vacation the most memorable trip you will ever be on. Its expanded fleet offers the utmost in contemporary luxury travel, and features what some say as "the best small ships in the world."

Climb aboard the Seabourn Pride and take a dip in the pool, pamper yourself at The Spa at Seabourn, or for a more dynamic atmosphere, visit The Club on Deck 6, and take in some live music and dancing. The Seabourn Legend boasts the Midnight Sun Lounge, a genial and bright watering hole offering panoramic views, social events from morning till night, with a light touch of quiet music over conversation after a 5-star dinner. And the Seabourn Quest, regarded as "a game-changer for the luxury segment" offers abounding opportunities to revel in a luxury cruise experience like none other. It presents a collection of fine dining restaurants with each offering its own variety of taste, fashion and grace, available to you for breakfast, lunch and dinner.

Off-ship, Seabourn offers a wide-range of individualized shore excursions from African Safaris, to the more tamed splendor of a drive through the beautiful countryside of Quebec, Canada. Take a half-day tour through the region of Andalusia, Spain, where you'll discover the true essence of bullfighting from the breeding fames to the matador schools.

Whether you're onboard or onshore, you'll always enjoy a warm and personalized experience with services provided by award-winning crew members committed to making your Seabourn cruise experience a fantastic one. And along with United Cruises's special offers, you're sure to get the most out of your luxury vacation cruise escape.
Luxury on World-Class Yachts
Experience personalized service, suite staterooms & an intimate cruising atmosphere

Canada & New England Seabourn Cruises
Departing from:
Montreal, Quebec
Ports of Call:
Montreal, Quebec • Quebec City, Quebec • Cap•Aux•Meules, Quebec • Sydney, Nova Scotia • Saint John (Bay Of Fundy), New Brunswick • Bar Harbor, Maine • Salem, Massachusetts • Charleston, South Carolina • Ft. Lauderdale (Port Everglades), Florida

South America Seabourn Cruises
Departing from:
Manaus (Amazon River), Brazil
Ports of Call:
Manaus (Amazon River), Brazil • Cruise Amazon River • Santarem (Amazon River), Brazil • Cruise Amazon River • Cross The Equator • Fortaleza, Brazil • Natal, Brazil • Recife, Brazil • Buzios, Brazil • Ilhabela, Brazil • Ilha Grande, Brazil • Rio De Janeiro, Brazil • Montevideo, Uruguay • Buenos Aires, Argentina

Exotic Seabourn Cruises
Departing from:
Singapore
Ports of Call:
Singapore • Port Klang (Kuala Lumpur), Malaysia • Penang (Pulau Pinang), Malaysia • Thilawa (Yangon), Myanmar • Phuket, Thailand • Awana Porto Malai, (Resorts World Langkawi), Malaysia • Lumut, Malaysia • Malacca (Melaka), Malaysia • Singapore
Departing from:
Piraeus (Athens), Greece
Ports of Call:
Piraeus (Athens), Greece • Aghios Nikolaos, Crete • Haifa, Israel • Ashdod (Jerusalem), Israel • Suez Canal Transit • Aqaba (Petra), Jordan • Salalah, Oman • Muscat, Oman • Doha, Qatar • Mumbai (Bombay), India
Departing from:
Dubai, U.A.E.
Ports of Call:
Dubai, U.A.E. • Sir Bani Yas Island, Abu Dhabi, U.A.E. • Abu Dhabi, U.A.E. • Muscat, Oman • Mumbai (Bombay), India • New Mangalore Port, India • Kochi (Cochin), India • Phuket, Thailand • Singapore
Departing from:
Singapore
Ports of Call:
Singapore • Laem Chabang (Bangkok), Thailand • Ko Kut (Ko Kood), Thailand • Sihanoukville, Cambodia • Ho Chi Minh City (Saigon), Vietnam • Hue (Da Nang), Vietnam • Ha Long City (Hong Gai, Hanoi), Vietnam • Hong Kong
Caribbean Seabourn Cruises
Sail to the Caribbean on a Seabourn Cruises adventure and celebrate life in a tropical oasis overcome by crystal blue waters, pink sandy beaches and exotic island resorts. Aruba's coastline is dotted with vacation treasures such as the Natural Pool, the Quadiriki Caves and Frenchman's Pass. Secure a heading to the island of Barbados where you'll view the parish of St. George or the legendary Gun Hill Signal Station. Each destination offers a wealth of activities from submarine tours and soaring helicopter rides, to snorkeling in cozy drifts wrapping the islands. Whether you explore on land or at sea, a Caribbean cruise vacation promises to be a trip filled with spectacular memories, adventure, and fun for everyone.
Departing from:
Ft. Lauderdale (Port Everglades), Florida
Ports of Call:
Ft. Lauderdale (Port Everglades), Florida • San Juan, Puerto Rico • Gustavia, St. Barts • Terre•De•Haut, Iles Des Saintes, Guadeloupe • Fort•De•France, Martinique • St. John's, Antigua • Cruz Bay, St. John, U.S.V.I. • Catalina Island (Isla Catalina), Dominican Republic • Ft. Lauderdale (Port Everglades), Florida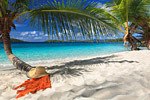 Departure Ports for Caribbean Seabourn Cruises:
Featured Ship: Seabourn Quest
The minute you step aboard you'll appreciate the Seabourn difference. Like her sister ships, Seabourn Quest features lavish all-suite accommodations, ... learn more
Ship Completed Date: Jun 1, 2011
Photos & Tours

Explore Seabourn Cruise Ships:
Search Seabourn Cruise Destinations
More Ways to Find Cruise Deals
Need Help? Call 800-811-3877
Terms & Conditions
Price is in U.S. dollars per person based on two people staying in the same stateroom. Price does not include airport and/or government taxes and fees, nor does pricing include fuel supplements. Prices do not include government taxes and fees, airfare, or a non-refundable $24.99 processing fee per booking. All offers are for selected dates only, are subject to availability, are limited and apply to new bookings only. Your exact price depends on the time of the actual booking. Additional restrictions may apply. All prices and dates may not be available at the time of booking. Passengers receiving special rates based on residency or age will be required to show a government-issued form of identification (passport, or birth certificate and drivers license) at the pier to validate state of residency or age prior to boarding the cruise ship.
Award miles are per stateroom and are awarded to only one passenger per cruise booking. To qualify for
extra award miles
, simply book a balcony or suite, or pay for your cruise using your MileagePlus credit card through this Cruise Program. If you qualify, you could earn up to 7 award miles for every $1 paid toward the price of the cruise, excluding port charges, government taxes, onboard spending and fees. Offer is valid on new bookings only. Award miles are posted to member's account 6-8 weeks after the cruise has been completed. Cruises must be paid in U.S. currency.
Miles accrued, awards, and benefits issued are subject to change and are subject to the rules of the United MileagePlus program. Please allow 6-8 weeks for miles to post to your account. United may change the MileagePlus program including, but not limited to, rules, regulations, travel awards and special offers or terminate the MileagePlus program at any time and without notice. Bonus award miles, award miles and any other miles earned through non-flight activity do not count or qualify for Premier® status unless expressly stated otherwise. United and its subsidiaries, affiliates and agents are not responsible for any products and services of other participating companies and partners.
Taxes and fees related to award travel are the responsibility of the member. The accumulation of mileage or Premier status does not entitle members to any vested rights with respect to the program. United and MileagePlus are registered service marks. For complete details about the MileagePlus program, go to
www.united.com
.

Special requirements
If you or a guest is pregnant or traveling with an infant child, or if there is a need to communicate a request for special meals, medical conditions or physical challenges, we ask that you please call 800-211-2039. Cruise Specialists are available 24 hours a day, 7 days a week. We will do everything we can to meet your needs and answer all of your questions.

Minimum age requirements may apply.