HAWAII CRUISES...Your Ticket to Paradise
Get huge deals on tropical Hawaiian Cruises
If you've been looking for the perfect time to get away - there's never been a better time (or way) to escape it all than with a cruise to Hawaii. Whether you're craving the hustle and bustle of Hawaii's town centers, or you want to experience the pristine quality of stunning white sand beaches, Hawaii cruises have plenty to offer for travelers of all ages.

Most Hawaii cruises range between 7 and 14 nights, affording you plenty of time to relax, unwind and revive yourself in paradise. When you dock in Hilo, the second-largest city on Hawaii Island, be sure to walk Banyan Tree Drive - a picturesque waterfront garden walk. Enjoy the small-town escape of Kailua-Kona, where petite coffee shops, quiet beaches and spectacular sunsets dominate your Hawaiian experience. But, if you're feeling like a tourist and want to experience the true excitement of Hawaii, a trip to Honolulu is probably your cup of tea, offering fantastic shopping and the chance to see panoramic ocean views from the top of the Aloha Tower.

Regardless of the itinerary you select, a cruise to Hawaii is sure to give you memories to last a lifetime. Enjoy the convenience and comfort that spacious shipboard accommodations provide, and indulge in fantastic dining and daily entertainment throughout your journey. Choose from a wide variety of unbeatable Hawaiian cruises and let United Cruises help you find the best prices and deals to sail away worry-free.
Cruise & earn up to 30,000 award miles
Get the Guaranteed Lowest Rates + Exclusive Bonus Offers

Featured Sailing
Eligible for: Up to 8 total award miles per $1

Brochure price $3,999. Save up to 76 % off brochure price!
Norwegian Cruise Line
Pride of America
, Honolulu, Oahu

Customer Reviews:


Interior
Oceanview
Balcony
Suite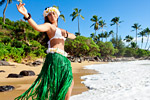 Departure Ports for Featured Sailing:
More Ways to Find Cruise Deals
Need Help? Call 800-211-2039
Terms & Conditions
Prices listed are samples in U.S. dollars per person based on double occupancy of select stateroom category types as indicated and include non-commissionable fares. All prices and bonus offers are valid only for new individual bookings for select stateroom categories on select sailings aboard select cruise lines. Prices do not include government taxes and fees, airfare, or a non-refundable $24.99 processing fee per booking. Cancellation penalties, blackout dates, and other restrictions may apply. Cruise prices and bonus offers vary by departure date and city, sailing, ship, and stateroom category selected and are subject to availability, capacity-controlled, limited by each cruise line, may not be combinable with other offers, and may be changed or withdrawn at any time without notice. All reservations must be made in U.S. dollars; restrictions may apply for non-U.S. residents.
Full Terms & Conditions
. Best Price Guarantee restrictions and instructions apply; see our
Best Price Guarantee Policy
.
Miles accrued, awards, and benefits issued are subject to change and are subject to the rules of the United MileagePlus® program, including without limitation the Premier® program (the "MileagePlus Program"), which are expressly incorporated herein. Please allow 6-8 weeks after completed qualifying activity for miles to post to your account. United® may change the MileagePlus Program including, but not limited to, rules, regulations, travel awards and special offers or terminate the MileagePlus Program at any time and without notice. United and its subsidiaries, affiliates and agents are not responsible for any products or services of other participating companies and partners. Taxes and fees related to award travel are the responsibility of the member. Bonus award miles, award miles and any other miles earned through non-flight activity do not count toward qualification for Premier status unless expressly stated otherwise. The accumulation of mileage or Premier status or any other status does not entitle members to any vested rights with respect to the MileagePlus Program. All calculations made in connection with the MileagePlus Program, including without limitation with respect to the accumulation of mileage and the satisfaction of the qualification requirements for Premier status, will be made by United Airlines® and MileagePlus in their discretion and such calculations will be considered final. Information in this communication that relates to the MileagePlus Program does not purport to be complete or comprehensive and may not include all of the information that a member may believe is important, and is qualified in its entirety by reference to all of the information on the united.com website and the MileagePlus Program rules. United and MileagePlus are registered service marks. For complete details about the MileagePlus Program, go to
www.united.com
.